What Are Dental Implants?
Dental implants are biocompatible, custom-machined parts that are essentially cylindrical posts designed to fit into the jaw and support several types of restorations. When used to replace teeth or to stabilize dentures, dental implants are carefully placed into the jawbone where they fuse with the bone tissue during healing. The bone grows around and sometimes through the implant to secure it permanently within the bone. Dental implants can be used as anchors for partial dentures or bridges or to assist in moving teeth during orthodontic treatment. Implants that replace teeth function like the roots of natural teeth.
A dentist trained in dental implant restorations, like Julie Gillis, DDS, can place precision attachments or abutments into the top of an implant, and position crowns over the abutment which can look and function like a natural tooth. Once a crown is placed on a dental implant it will feel like you grew a new tooth! If implants are placed to help hold a full or partial denture in place, Dr. Gillis will place a different type of attachment into the implant. The implant and attachment fit with a denture or partial denture to make that denture feel more secure. You will feel more comfortable chewing, talking, and speaking because your denture is much more stable!
To learn more about dental implants please explore the informative sections provided below or contact our practice:
Meet Randy
When Randy first visited our office, he explained that he was ready to fix up his smile after having periodontal disease for many years, along with clenching and grinding habits that had worn his teeth down unevenly. He had missing teeth and misaligned teeth, and wanted these things corrected.
After treatment for his periodontal disease and surgery to place several implants, Randy wore temporary crowns for a period of time to adjust to the new alignment of his teeth and allow his bone to attach to the implants. When his final restorations were placed, Randy was overjoyed to have his smile back along with his oral health!
Single-Tooth Replacement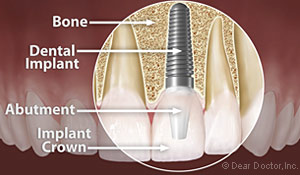 Going without a solution to your lost tooth can actually open your mouth up to many other problems. Your other teeth will shift to attempt to fill the space left by the missing tooth, and nerves in your gums that were once attached to the tooth send a signal to your jawbone that it's no longer needed. The bone of your jaw will begin to deteriorate, but dental implants from Dr. Julie Gillis could prevent this from happening.
Dr. Gillis will be able to evaluate your candidacy for dental implants during your initial consultation appointment. She'll have to examine you to make sure that your gums are healthy and to verify if your jawbone will be strong enough to support the implant. During your examination, Dr. Gillis will also record the size, shape, and coloring of your teeth, so she can send accurate notes to the certified ceramist who will create your new dental crown or crowns. If you'd like your teeth to shine brighter, teeth whitening is also available at our office.
A small titanium post will need to be implanted into the bone for every absent tooth in the gap to support your new crowns. After a while, the titanium posts fuse with your bone tissue in order to make the foundation for the new replacement teeth. It's like having a bionic tooth, or growing a new tooth root! Once the posts are secured, Dr. Gillis will be able to attach your permanent crown. It will provide the feel, function, and look of your natural tooth. And the best part is that it's a permanent solution, making your tooth-loss problem only temporary! You'll be able to eat, grin, and relax knowing your dental implant is there to fill the once humiliating space in your smile.
Replacement of Multiple Teeth
Dental implants can also be used to secure a dental bridge, partial denture, or full denture. A dental bridge is a permanent tooth replacement which is bonded to sturdy, healthy teeth or implants. Partial dentures are removable and are clipped to the teeth on either side of the gap created by missing teeth. If you don't have teeth strong enough to provide support, or if your full denture flops around, Dr. Gillis can use dental implants to provide the required support instead. You may even be a candidate to eliminate your partial denture altogether, and have dental implants and crowns take the place of a removable appliance. You can once again chew with confidence knowing that your partial or full denture is not going to slip around in your mouth. Get more information about these options by exploring the following pages:
Dr. Gillis is experienced with dental implant restorations, and her staff is highly skilled and enthusiastic to assist in your dental implant procedure. Contact our office in Grand Junction today to begin planning the new look and function you want, or to ask any questions you have about dental implant procedures. Dr. Gillis also provides her dental implant service to patients from the Western Slope of Colorado and nearby Utah communities. Several of our patients drive a couple hours to see us – some even fly in – but most of our patients arrive from Grand Junction, Fruita, Clifton, Palisade, and Orchard Mesa.
Dental Implant FAQs
How much do dental implants cost?
Your cost for a dental implant will depend on the type of implant, the available bone, and the type of restoration that will be placed. A dental implant, abutment, and crown will cost approximately $3,000 to $5,000, unless special discounts or lower-quality materials are used. This cost includes $1,500 to $3,000 to place the dental implant and about $1,500 to $2,000 to restore the implant with an abutment and crown. If a small diameter implant (also referred to as a mini dental implant) can be used, your cost will be much less—about $2,000. Your cost will likely be spread over several months (and split between your dentist's office and the office of an oral surgeon or a periodontist) making this cost more affordable.
Are dental implants safe?
This is a very good question. Dental implants are very safe when made from high-quality materials, placed by a skilled dentist or surgeon, and placed in a good position within the jaw. The dentist restoring your dental implant must be very skilled and trained in the restoration of dental implants. Your health and ability to handle this relatively simple surgery is very important.
Do dental implants hurt?
The placement of a dental implant can be compared to the routine extraction of a tooth. Usually, all that is needed is a local anesthetic. Once the implant has healed, it can be so comfortable you may forget that it is not your own tooth.
How long to dental implants last?
We like to say that the longevity of a dental implant depends on three things:
Your health and the way that you take care of the implant over time,
The quality of materials used and the skill to construct the dental implant, abutment and crown, and
The skill of the dentist and surgeon.
How long does it take to get dental implants? 
Many implants and implant restorations are done on the same day without a waiting time for healing. You can chew immediately on your new crown or teeth supported by the implants!
Although instant or same-day treatment is sometimes great, this may not always be the best solution. Sometimes it is best to place the implant, wait 4 to 6 months for healing, then place the abutment and crown. Usually there is some time needed for the dental laboratory to construct the ideal abutment and crown or partial to fit your mouth and your bite. If an extraction is done prior to the placement of a dental implant, or if bone grafting is required to create an ideal site for implant placement, this may increase the wait another 3 to 6 months. It is worth the wait if this is the case!
How do I clean and care for my dental implants?
Usually, maintenance and hygiene is as simple as brushing and flossing—just as you would for your own teeth! Dr. Gillis and her team will spend time with you before, during, and after implant placement to ensure that you know exactly how to best take care of your implant. Our office's hygienists and Dr. Gillis will evaluate your implant each time you are seen in the office and make sure the area is healthy and that you are taking good care of your new restoration.
Are there certain foods I should avoid with dental implants?
The answer to this is usually no, but your specific situation may be different. Dr Gillis and her team will review this with you.
Does smoking affect dental implants?
We always recommend quitting smoking or decreasing the amount that you smoke. We understand how difficult this can be! Smoking even a small amount can affect your body's ability to heal and makes you more prone to periodontal disease. Even smoking as little as one cigarette per day can statistically increase the likelihood of gingivitis and periodontal disease and can make these diseases progress faster than in a non-smoker. That being said, many people that do smoke have successful implant restorations.
Are there alternatives to dental implants?
Absolutely! Teeth can be replaced with bridges, partial dentures, or full dentures and this has been done for decades. You can function without teeth. There are other alternatives to making partial and full dentures feel more secure. Your dentist should go over these other options with you if dental implants are not right for you or you may just want to delay implants for financial or other concerns.