The Best Way to Replace Missing Teeth in Colorado
Meet Randy
When Randy first visited our office, he explained that he was ready to fix up his smile after having periodontal disease for many years along with clenching and grinding habits that had worn his teeth down unevenly.  He had missing teeth and misaligned teeth, and wanted these things corrected.
After treatment for his periodontal disease and surgery to place several implants, Randy wore temporary crowns for a period of time to adjust to the new alignment of his teeth and allow his bone to attach to the implants.  When his final restorations were placed, Randy was overjoyed to have his smile back along with his oral health!
Single-Tooth Replacement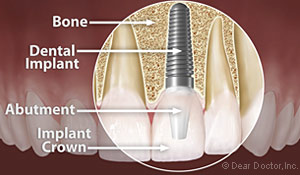 Going without a solution to your lost tooth can actually open your mouth up to many other problems. Your other teeth will shift to attempt to fill the space left by the missing tooth, and nerves in your gums that were once attached to the tooth send a signal to your jawbone that it's no longer needed. The bone of your jaw will begin to deteriorate, but dental implants from Dr. Julie Gillis could prevent this from happening.
Dr. Gillis will be able to evaluate your candidacy for dental implants during your initial consultation appointment. She'll have to examine you to make sure that your gums are healthy and to verify if your jawbone will be strong enough to support the implant. During your examination, Dr. Gillis will also record the size, shape, and coloring of your teeth, so she can send accurate notes to the certified ceramist who will create your new dental crown or crowns. If you'd like your teeth to shine brighter, teeth whitening is also available at our office.
A small titanium post will need to be implanted into the bone for every absent tooth in the gap to support your new crowns. After a while, the titanium posts fuse with your bone tissue in order to make the foundation for the new replacement teeth. It's like having a bionic tooth, or growing a new tooth root! Once the posts are secured, Dr. Gillis will be able to attach your permanent crown. It will provide the feel, function, and look of your natural tooth. And the best part is that it's a permanent solution, making your tooth-loss problem only temporary! You'll be able to eat, grin, and relax knowing your dental implant is there to fill the once humiliating space in your smile.
Replacement of Multiple Teeth
Dental implants can also be used to secure a dental bridge, partial denture, or full denture. A dental bridge is a permanent tooth replacement which is bonded to sturdy, healthy teeth or implants. Partial dentures are removable and are clipped to the teeth on either side of the gap created by missing teeth. If you don't have teeth strong enough to provide support, or if your full denture flops around, Dr. Gillis can use dental implants to provide the required support instead. You may even be a candidate to eliminate your partial denture altogether, and have dental implants and crowns take the place of a removable appliance. You can once again chew with confidence knowing that your partial or full denture is not going to slip around in your mouth.
Dr. Gillis is experienced with dental implant restorations, and her staff is highly skilled and enthusiastic to assist in your dental implant procedure. Contact our office in Grand Junction today to begin planning the new look and function you want, or to ask any questions you have about dental implant procedures. Dr. Gillis also provides her dental implant service to patients from the Western Slope of Colorado and nearby Utah communities. Several of our patients drive a couple hours to see us – some even fly in – but most of our patients arrive from Grand Junction, Fruita, Clifton, Palisade, and Orchard Mesa.