Your First Visit
Once you have scheduled your initial visit, Shelly, our business assistant, will mail you an account registration and medical history form for you to fill out at your convenience prior to your appointment. Upon arrival in our office, you will be introduced to one of our treatment assistants who will escort you on a guided tour of the office. You will then be seated in one of our comfortable treatment rooms where you will enjoy our expansive view of the Bookcliffs.
We begin the exam with a review of your medical and dental history, and take the necessary X-rays and photographs of your smile.
Dr. Julie Gillis—our experienced dentist—will then proceed with an evaluation of each tooth in your mouth, your gums and supporting structures, and an evaluation of your bite and jaw joint function. An oral cancer examination will be completed at your initial visit and at all continuing care visits.
When your examination is complete, Dr. Gillis will discuss our findings with you and make recommendations for treatment. We want you to know what should be done and the cost involved. Also, we want you to help you decide which path we should follow based on your dental health goals.
You will be pleased to find our fees are comparable to others in this area. Shelly, our business assistant, will be happy to work with you to create a financial arrangement that can make our excellent dental care affordable.
Our practice will not disclose protected health information without your authorization in accordance with our Notice of Privacy Practices.
Financial Options for Patients in Grand Junction, CO
In addition to making your dental experience enjoyable, the staff at Dr. Gillis'office works very hard to make financing affordable.
We accept cash, checks, VISA, MasterCard, Discover, and American Express as well as accept assignment of benefits from most insurance companies. In addition, we offer short-term interest-free financing or extended-term financing through CareCredit, a health care financing company. You can apply for the CareCredit financing option in our office or on-line by clicking on the links below.
We offer the CareCredit six month interest-free plan, as well as the extended 24 to 60 month financing programs with rates ranging from 14.90% APR to 16.90% APR. CareCredit is a flexible patient payment program specifically designed for healthcare expenses, which works like a credit card. With CareCredit, you pay no up-front costs, no pre-payment penalties, and no annual fees. Plus, CareCredit is a revolving credit line which can be used for additional treatment or add-on charges – without the need to re-apply – and may be used at the offices of other healthcare providers.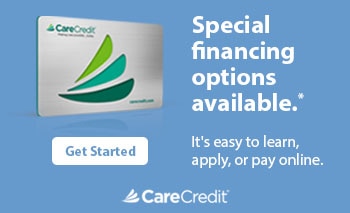 Please let us know if you have any questions concerning financing your dental treatment. We would be happy to go over the financial options in more depth and let you know what may be the best option for you.
Patient Education
Dr. Gillis and her Grand Junction dental team work hard to ensure every patient gets the quality dental care he or she needs, but one of the best ways we help patients get the treatment they need is by working in partnership with them. That starts with education. Patients who understand their options are better able to choose the right treatment for their unique smile and goals. We invite you to explore our education videos. Click the link below to get started.
Dr. Gillis works with patients from Colorado and Utah, including those from Orchard Mesa, Clifton, Palisade, Fruita, and Grand Junction. Our staff wants to make dental care obtainable to those in need. Please feel free to contact us in order to learn more about our financing options.